Teacher Training Intensive – Summer 2017
Forever Om Yoga
200 RYT – Yoga Alliance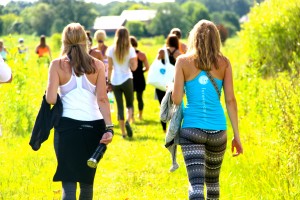 What sets us apart:
This teacher training & certification program will give you the tools, 
hands-on experience, and confidence needed to teach an authentic, powerful, and
 inspiring power vinyasa yoga class. This program will focus on all aspects of teaching and living the 
principles of yoga. Learn to teach from intuition and to share your love of yoga through teaching in a powerful and honest way. Forever Om Yoga is a Yoga Alliance registered training program.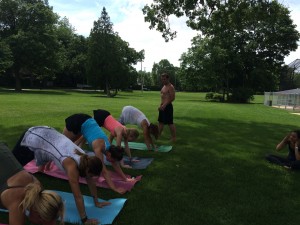 Your Teachers:
Cilla Stoll (ERYT, 500RYT) & Dianne Banta (200 RYT):
Cilla, as lead ERYT has four 200 RYT under her belt and has lead many trainings through FOY.  Dianne, who received her RYT through FOY has many hours of teaching, co-facilitated the training last year, and is nearly complete with her 500 RYT through Live Love Teach.  These lead teachers embody the style of FOY power vinyasa classes. See their bios under the "Teachers" tab.
In our training program you will gain the following skills:
Ability to teach a strong power vinyasa yoga class with skill and confidence.
Teach healthy asana alignment, form and modifications
Understand intelligent sequencing
Ability to effectively give solid hands on assists in the classroom
Knowledge of basic anatomy and physiology as well as energetics of yoga
History and roots of yoga
Learn how to listen from your intuition and teach from the heart
Learn breathing techniques
Learn effective presentation and communication skills to teach to different levels
Learn the business of yoga
Program requirements:
Have a "coachable" attitude.
Be fully committed and understand that 100% full attendance is required.
Complete application for admission. *Application to the program does not guarantee acceptance.
Tuition:
$3,500
($500 non refundable deposit is due with application – applied toward tuition)
Click Here to make deposit.
Unlimited membership is included with Teacher Training from June 12 – July 20th, 2017. Current memberships can be put on hold during the time of the training.
Payment Options: $500 deposit required – payment plans available upon request.
Any questions, please contact Cilla Stoll @ ownerfoy@gmail.com
To put down your deposit please go to the ONLINE STORE tab. Put your $500 deposit down and we'll contact you via email. We welcome everyone – whether new to yoga, or a seasoned yogi. Whether you plan to teach or deepen your understanding of yoga. Forever Om Yoga is about inclusion not exclusion. Om on yogis!
TRAINING SCHEDULE: 
June 12, 2017 ending July 18, 2017