Teacher Training Sessions 1 & 2
January, 2018 & June, 2018
Forever Om Yoga
This program will certify you through Yoga Alliance as a 200 RYT
Our school is accredited through Yoga Alliance and will prepare you to teach at any studio.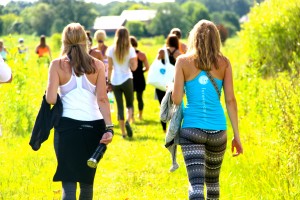 What sets us apart:
This teacher training & certification program will give you the tools, 
hands-on experience, and confidence needed to teach an authentic, powerful, and
 inspiring power vinyasa yoga class. This program will focus on all aspects of teaching and living the 
principles of yoga. Learn to teach from intuition and to share your love of yoga through teaching in a powerful and honest way. Forever Om Yoga is a Yoga Alliance registered training program.
Our model of intuitive sequencing will free you from the burden of planning a class before you see who is in the class. You can change your "plan" based on the level of students and the energy in the room. It's the most free flowing way of teaching yoga and connects the teacher unlike any other practice. We are different in that our studio promotes freedom from rules that hold you down from being your most creative and flow based self. After all, doesn't the world require us to follow enough rules?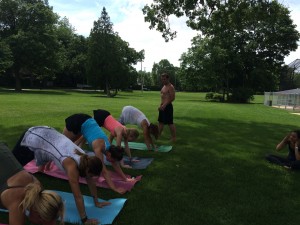 Your Teachers:
Cilla Stoll (ERYT, 500RYT) & Dianne Banta (200 RYT):
Cilla, as lead ERYT has four 200 RYT under her belt and has lead many trainings through FOY.  Dianne, who received her RYT through FOY has many hours of teaching, co-facilitated the training last year, and is nearly complete with her 500 RYT through Live Love Teach.  These lead teachers embody the style of FOY power vinyasa classes. See their bios under the "Teachers" tab.
Other teachers from FOY who participate: Ginny Wells, 200ERYT, Sandi Rupprecht, 500ERYT
In our training program you will gain the following skills:
Ability to teach a strong power vinyasa yoga class with skill and confidence.
Teach healthy asana alignment, form and modifications
Understand intelligent sequencing
Ability to effectively give solid hands on assists in the classroom
Knowledge of basic anatomy and physiology as well as energetics of yoga
History and roots of yoga
Learn how to listen from your intuition and teach from the heart
Learn breathing techniques
Learn effective presentation and communication skills to teach to different levels
Learn the business of yoga
Program requirements:
Have a "coachable" attitude.
Be fully committed and understand that 100% full attendance is required.
Complete application for admission. *Application to the program does not guarantee acceptance.
Tuition:

Since there are two sessions you have several options. You can participate in Session 1 OR Session 2 (session 2 requires that you either complete Session 1 or you are already a 200RYT looking to sharpen your skills)
Session 1:
Deepening Your Understanding of Yoga:
This one week module will focus on the philosophy and study of yoga knowledge. There will be no practice teaching in this module but more philosophy, spirituality, yoga anatomy. Even if you don't want to become a yoga teacher this week will deepen your understanding of the practice and what it means in your life. Location: Lake Forest, IL
($1500)
Session 2:
Dynamic & Powerful Teaching:
This session will give you all of the practical skills necessary to teach a dynamic class. We focus on effective communication, moving energy, sequencing, dynamic presence, hands on assists and advanced poses. If you're already a yoga teacher and you're feeling the burden and pressure of coming up with new ideas, better classes, feeling connected you must sign up for this training! Only 14 spaces available in this session so sign up immediately. This session will be held in Phelps, WI at our yoga retreat. On site chef will prepare healthy meals twice a day.
($2300)
Certification Route:
Since both Sessions are optional and may or may not lead to certification, the Certification Route is an additional $500. If you pay for both sessions before Session 1 you receive the Certification Route for free as an Early Bird special. If you choose to do certification after session 1 or session 2 you must pay the $500 in order to be a registered yoga teacher.
Please email managerfoy@gmail.com to make payment or to set up a phone meeting to discuss with one of the lead teachers.
No matter what route you choose – this program WILL change your life. You will understand your practice more, will connect with others like never before and carry a peaceful understanding of energy and how it moves through you and the world.
If you have fear around doing training ask yourself: If not now, when?
Click Here to hear what others have to say about their experience: (coming soon)