"Wilderness is not a luxury but necessity of the human spirit." –Edward Abbey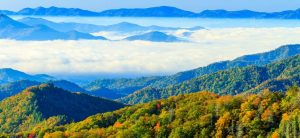 Announcing Forever Om Yoga Spring Retreat: Hiking and Yoga in the North Carolina, Smoky Mountains.
Forever Om Yoga will be taking you on an amazing get-away where you will be able to enjoy the benefits of yoga twice a day and hiking! RYT-200 Instructor Kelsey Stoll will guide you through a invigorating yet relaxing weekend to reconnect you back to your roots. Throughout the weekend you will learn how to establish a meditation practice and why it is so important. You will develop your understanding of the vinyasa yoga and deepen your personal yoga practice through breakdown workshops on inversions and arm balances. Enjoy an essential oils workshop where we will make your own massage oil blend to balance chakras. Daily hikes will allow you to experience the beautiful Smoky Mountains. The Smoky Mountain National Park is home to nearly 1,500 black bear and 1,600 different species of wildflowers. It is one of the most incredibly lush areas to hike. Weather should be perfect during this time of year in North Carolina, with an average high of 60 degrees and a low of 40 degrees. Also, traveled chef, Aleks Semova, will provide you with amazing, healthy and fresh meals and snacks.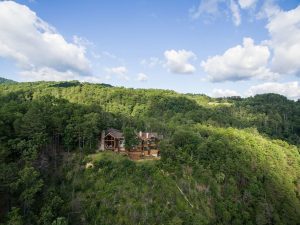 Our house is tucked in the mountains, just above the gorgeous Little River. There is a huge deck that overlooks the river that we will be practicing yoga and meditating. Each room is private and has windows so that you can enjoy the presence of the outdoors. Every room also has their own private bathroom. There is a workout room with a treadmill, office areas, and a dining area where we will all eat together. Closer to the river is a yoga deck where we will also be practicing yoga!
With the combination of being outside, eating healthy, practicing yoga, meditating and hiking, this trip is exactly what you need to reconnect with yourself. Join us, the mountains are calling!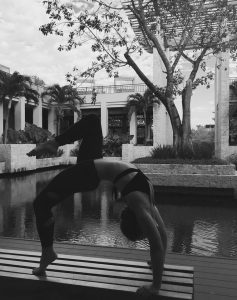 About your Instructor, Kelsey Stoll:
Kelsey has been teaching yoga since she was 16-years old, and practicing since she was 13! She earned her RTY-200hr through Live, Love, Teach, Down Dog Yoga and Forever Om Yoga and specializes in power vinyasa. She has taught for various populations including kids, inmates, and trauma victims. She is passionate about using her love of yoga to help transform lives. Kelsey accepted her Wilderness First Responder degree and worked as an outdoor leader for her four years at University of Vermont. Her outdoor leadership experience included overnight hiking, canoe and hiking and yoga expeditions, and the TREK program for incoming freshmen. She is enthusiastic about combining the benefits of being outside with yoga.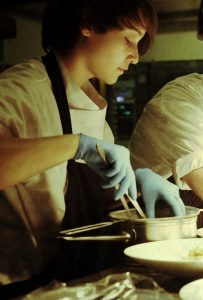 About your Chef, Aleks Semova:
Aleks is originally from Varna, Bulgaria and earned her culinary degree through HRC culinary academy in Sofia, which is recognized by the American Culinary Federation Accrediting Commission. Since then, she has worked with some of the best chefs at Harry's Restaurant in Maastricht and the renowned MARC restaurant-Bistro du Midi in Boston. Since then, she applied the technical skills developed and was named Sues Chef at La Mer in Bulgaria. She has a particular interest in healthy food and natural flavors. She completed the health and nutrition program at University of Food and Technology in Plodiv, Bulgaria. Aleks also worked as a personal chef in Rhode Island. Aleks pushes the boundaries in her effort to combine fresh ingredients that taste delicious.
Check out our different room options available! Each room is priced accordingly. The price includes transportation from the airport, food, yoga-twice a day, a guided hike everyday, every meal (including snacks), an essential oil workshop, yoga nidra every night, meditation every morning, and on overall unforgettable experience. So, invite your friends, family and join Forever Om Yoga in the Smoky Mountains!
The Master Suite: This luxury room is accompanied by a beautiful king bed overlooking the mountain range. Includes a private bathroom, a private study room, and a flat screen television. These massive windows will help you to fully experience just how remote the house is. Up to two people, please!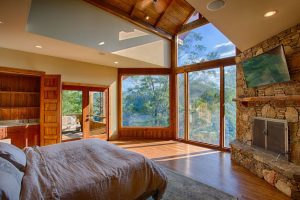 The Family Suite: Can you imagine a better trip than getting to spend time with your family or friends away from the regular hustle and just be outside? This family suite has a queen bed and a twin bunk-bed. Enjoy your own full bathroom! This room is located relatively distant from the other rooms in the house so your family will be able to feel privacy at rest hours! Up to four people please!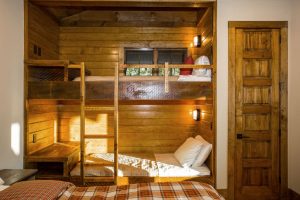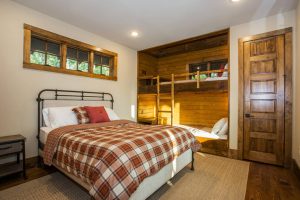 The Private Suite (1): Our first private suite is a luxury room with a large window overlooking the mountains. Enjoy your own private bathroom and a comfortable queen bed! Up to two people, please!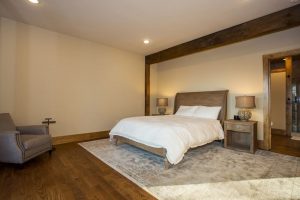 Private Suite (2): Our second private suite is a luxury room with your own outdoor porch to enjoy the fresh mountain air. Accompanied with a private bathroom and a queen bed! Up to two people, please!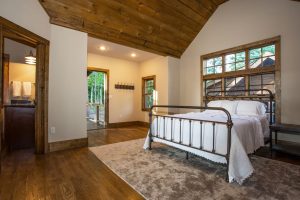 Private Suite (3): Our third private suite is a luxury room with large windows that open up to your own porch. Enjoy your own bathroom and queen bed! Up to two people, please!