January 2020
Session 1: Deepening Your Understanding Of Yoga
Going beyond the physical. This program will not only change your practice but will change your life.
Throughout this week you will learn all of the intricacies of the yoga practice, alignment, intention behind the poses, history and workings of the energetic body. This session is the first of two that are necessary to earn your 200RYT – however many students would like to learn about yoga and have no desire to teach. If this is you, please feel free to take Session 1 without Session 2. It's a great stepping stone to learning more about the ancient and sacred practice of yoga.
What you'll learn: the history of yoga, alignment of poses, sanskrit, yoga philosophy, yoga anatomy including energy bodies, chakras, nadis. How to structure a class and why. Different styles of yoga including (naming just a few) restorative, yin and vinyasa. Meditation history, styles and why. – Cost $1700
Dates:  January 11-17 9:00am-5:00pm
Please sign up below. Deadline is December 15th, 2019
Session 2: Becoming a Powerful & Authentic Teacher
Session 2 of our training will allow you certification through Yoga Alliance. If you want to learn to perfect your skills in order to teach effectively, with connection to what you're seeing and to whom is in the room, to apply all traditional principles of yoga, if you want to change lives through this practice this session is for you. A supportive, empowering environment that is meant for you to find your own voice – one that is authentic to you so that you can create change in people. Mind, body, spirit. $2200
Feb. 1-12th, 2020  9:00am-5:00pm
EARLYBIRD DISCOUNT: PAY IN FULL for both sessions by November 1st – Get $700 off.
Our school is accredited through Yoga Alliance and will prepare you to teach at any studio.
Although we focus on hot yoga at Forever Om, our teacher training program prepares you to teach in any type of yoga environment.
This teacher training & certification program will give you the tools, 
hands-on experience, and confidence needed to teach an authentic, powerful, and
 inspiring power vinyasa yoga class. This program will focus on all aspects of teaching and living the 
principles of yoga. Learn to teach from intuition and to share your love of yoga through teaching in a powerful and honest way. Forever Om Yoga is a Yoga Alliance registered training program.
Our model of intuitive sequencing will free you from the burden of planning a class before you see who is in the class. You can change your "plan" based on the level of students and the energy in the room. It's the most free flowing way of teaching yoga and connects the teacher unlike any other practice. We are different in that our studio promotes freedom from rules that hold you down from being your most creative and flow based self. After all, doesn't the world require us to follow enough rules?
Your Teachers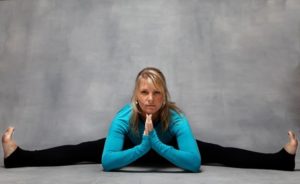 Cilla Stoll (ERYT, 500RYT) & Dianne Banta (200 ERYT)
Cilla, as lead ERYT has four 200 RYT under her belt and has lead many trainings through FOY.  Cilla is also one of few certified Primordial Sound Meditation instructors through The Chopra Center in Carlsbad, CA. Dianne, who received her RYT through FOY has many hours of teaching, has been co-facilitating the training, and is nearly complete with her 500 RYT.  These lead teachers embody the style of FOY power vinyasa classes. See their bios under the "Teachers" tab.
Other Trainers
Kelsey Stoll, 500ERYT, Sandi Rupprecht, 500ERYT, Movement & Voice coaching. (James Zager & Jill Walmsley)
In our training program you will gain the following skills:
Ability to teach a strong power vinyasa yoga class with skill and confidence.
Teach healthy asana alignment, form and modifications
Understand intelligent sequencing
Ability to effectively give solid hands on assists in the classroom
Knowledge of basic anatomy and physiology as well as energetics of yoga
History and roots of yoga
Meditation philosophy and training
Learn how to listen from your intuition and teach from the heart
Learn breathing techniques (pranayama)
Learn effective presentation and communication skills to teach to different levels
Learn the business of yoga
Program requirements
Have a "coachable" attitude.
Be fully committed and understand that 100% full attendance is required.
Complete application for admission. *Application to the program does not guarantee acceptance.
Please email ownerfoy@gmail.com to make payment or to set up a phone meeting to discuss with one of the lead teachers.
Copyright © 2020 Forever Om Yoga